Cash Out Refinancing vs. Home Equity Line of Credit
When it comes to getting access to extra cash, home owners have two main options - a cash out refinance or a home equity line of credit (HELOC). Both offer money for different reasons, but it's important to know the difference between them before deciding which option is best for you. Let's take a look at each one in more detail. 
Cash Out Refinancing 
A cash out refinance is when you use the equity in your home and borrow more than what you currently owe on your existing loan. This means that when you're approved for a new loan, some of the money can be used for other purposes such as paying off debt, making home improvements, or just having extra cash in hand. With this type of loan, you are essentially taking out a new loan and replacing your old one with it. The main benefit of this option is that interest rates are generally lower than those on other types of loans. 
Home Equity Line Of Credit 
A home equity line of credit (HELOC) is an open-ended loan where your home serves as collateral. You can borrow up to a certain limit, usually determined by how much equity you have in your home and the value of your property. A HELOC allows you to make withdrawals when needed and pay the money back over time with regular payments or lump sums. The interest rate here may be slightly higher than that on a cash out refinance but could still be lower than many other types of loans.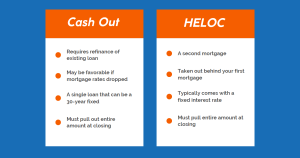 Bottom Line 
Choosing between a cash out refinance and HELOC depends on your individual situation and needs. It's important to consider all factors before making a decision so that you can get the most from either option. If you need access to large amounts of money quickly then refinancing may be the better option. Because it offers low interest rates and fast access to funds; however, if you only need occasional access to smaller amounts then taking out a HELOC may suit you better due to its flexibility and potentially lower rates. Ultimately, understanding these differences will help ensure that whichever route you take is right for your situation.