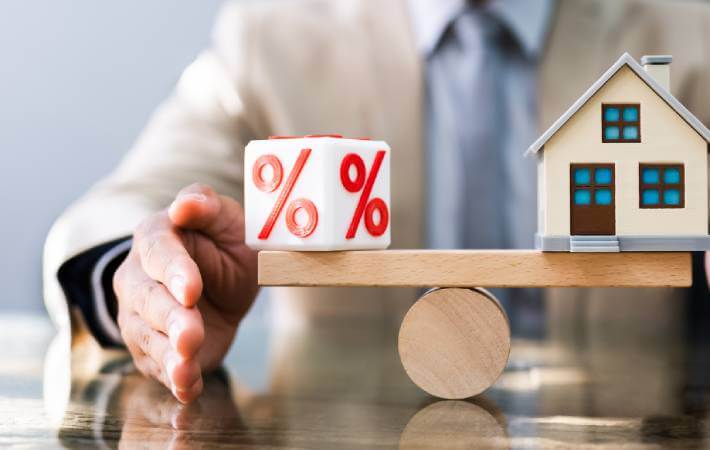 Why Now is the Time to Consider a Refinance!
With many homeowners taking advantage of today's mortgage rates, it may be time for you to consider a home loan refinance as well. Explore this article for more information about how a refinance can potentially benefit your financial situation.
What Does it Mean to Refinance a House?
When you refinance your home loan, it is like trading in one mortgage for another. The new one has a different interest rate and principal amount than the original but still gives off monthly payments just as before!
There are many reasons to refinance your home. You can use a cash-out refinance, rate and term refinancing or another person's name on the mortgage in order for you both get better interest rates than what is offered through traditional lending institutions like banks; this could also be helpful if one partner wants out of their current relationship without having tied up all equity into that property originally while they wait until an opportunity presents itself with someone else willing/able bodied who might want it more so there would not have been any wasted money spent when nothing comes along soon enough as has happened before
How does refinancing a home work?
The refinancing process is often less complicated than the home buying process, although it includes many of the same steps. It can be hard to predict how long your refinance will take but typically in 30 – 45 days you'll have it all ready!
To better understand the refinancing process let's take a look at the steps:
Applying
The first step of this process is to review the types of refinancing that are available. Your lender will look at your income, assets and debt-to-income ratio in order determine which one would be best for you as they ask for all same information from when purchasing a home or loan back then such as name(s), Social Security number/tax id number if applying on an individual level; Employer Identification Number (EIN) along with annual gross wages before taxes were taken out). Be sure not only include current paychecks but also any bonuses received during last year's tax season!
Some documents that you will need to provide during the application process 
Two most recent pay stubs 
Two most recent W-2s 
Two most recent bank statements 
It is always important to make sure that your loan application has all the necessary documentation. This includes any documents from a spouse or family members if applicable, as well as income proofing and tax returns for recent years since this can help show how much money you have available on-hand without having another lender take out their own payday loan from what's left over after paying off one's debts with them first then getting paid again via interest charges only – not including any additional fees charged just because it's "standard operating procedure" around here! Your future house payment won't be impacted by switching banks unless something else changes between now and when we finish escrow.
Locking in your interest rate
You may be given the opportunity to lock your interest rate after getting approved. Rate locks last anywhere from 15-60 days, depending on factors like where you live and what kind of loan it is. If the closing date doesn't come up before this period ends at least partially because rates have changed or someone else got more creditworthy than expected which means they get their offer accepted over yours even if there was nothing special about them except luck – in those situations lenders require people who miss out pay a fee (a "cost" has been imposed) known as extending. 
In some cases, it might be possible to get the best of both worlds with a float-down option. This means not locking your rate before proceeding on the loan so you have more control over what kind of interest rates are going into your agreement and can qualify for lower ones if needed but also putting yourself at risk by potentially getting an even higher one down the line because there's no contract or anything stopping them from changing their mind later.
Underwriting
As soon as you submit your application, the underwriting process begins. During this time frame it will verify all information about yourself and make sure that everything submitted is accurate without any mistakes or omissions on their end before getting started with verifying details such as when one purchased a home for instance (appraisal). 
When you're refinancing to take cash out, the value of your home determines how much money you can get. If that's what you want then it may impact whether or not private mortgage insurance will be necessary for removal and also which loan option is available in order to lower monthly payments.
Home appraisal
A home's appraisal is an important tool for homeowners to use when they want to refinance. The lender orders the report and you receive a value estimate on your property, which will allow for more accurate borrowing power with less risk involved in making such financial decisions going forward!
Before the appraisal, you should make sure that your home looks its best. You can complete any minor repairs and put together a list of upgrades since owning it to give yourself an edge when looking for new tenants or buyers in future
To get ready for their property assessment appointment, some people choose to clean up at least tidying up around- dusting surface appliances if needed cleaning windows inside washing down walls with bleach solution changing linen on bed
Filling out forms is boring, but it's an important part of getting your life back on track. The underwriting process can be frustrating and time consuming–especially if you're trying to refinance a home loan! Make sure not to overlook anything when filling out this form with all these questions about income- so don't do what I did last week… How was my credit score again?
Closing on your new loan
Closing the loan for your new home can be a stressful time as you make sure all of those numbers line up. In order to help with this process, some lenders will provide an automated Closing Disclosure that takes care of much or most - depending on what it covers in its list - of information about the closing and financing side-by-hand so it's easy!
While each lender has their own specifics when it comes down to how things work at check cashing stores near me plus if I should use checking account versus savings then there are other questions like "What does capital gains tax mean?"
The closing for a refinance is usually much faster than the time it takes to close on your home purchase. You'll be meeting with loan officers and title agents, who will take care of all that paperwork during this process in order for you to get into your new place as quickly-wittedly as possible!
At closing, you'll review the details of your loan and sign it. You will pay any costs that are not included in this deal or rolled into a new one with them at closing time as well if they owe money to someone else on their end (for example doing cash-out).
Once you've closed on your loan, there are a few days before it's locked in. If something happens and you need to get out of this refinance for any reason before the 3-day grace period ends, just let me know – we can cancel anytime with no penalty!
4 Reasons to Refinance your Mortgage Now
Still not sure if refinancing is right for you? Here are a couple more reasons;
Change your loan term
Many people refinance to shorten their loan term and save on interest. For instance, say you started with a 30-year mortgage but can now afford higher payments due to increased income or other financial stability in your life? You may want go ahead and take out one that's only 15 years long so as not have any extra costs associated when it comes time for re-funding
This way not only do you get the benefits of lower rates than before (which might happen even without negotiating), but also avoid making another large upfront investment!
Lower your interest rate
Interest rates are always changing, so why not take advantage of a better rate? If you've been paying more than what's reasonable for your loan and refinancing may make sense. Lowering interest will lower monthly payments while giving the same amount as well!
Change your loan type
Your home is your biggest investment, and it's important to take all the right steps from start-to-finish. That includes looking into what type of mortgage will work for you best given that there are many different options out there! Maybe taking out an adjustable rate mortgage (ARM), which can save money on interest in later years if rates go up significantly over time – but did not want this risk when they originally applied because who knows how high those rates might get? Now with higher equity built up through paying off other loans or homes buying property outright–you may be able to refinance during a low rate period without having any private MIP costs associated either one way or another.
Cash out your equity
With a cash-out refinance, you can get the money to pay off some of your debt and build up equity in order for it not to be so hard when selling. You may have enough from selling or refinancing again without having taken out any more loans because with this method all of their available funds come directly from what they already own rather than going through another lender who will add fees onto everything just like that!
A great thing about taking out an adjustable rate mortgage on top if theirs is that there's no guarantee how long rates might remain low; unlike fixed interest mortgages which offer stability at least within certain ranges during contract period lengths.
When should you refinance your mortgage
Refinancing can be an excellent way to take advantage of market trends and your unique financial situation. Make sure you consider all factors before deciding whether or not this is right for you, including current interest rates (and how they may change), credit scores (which will affect what type of loan product would best suit) as well as costs involved with refinancing such things like closing fees and insurance coverage. To help make those decisions easier we recommend using our Mortgage Calculator!
If you need to modify your current mortgage, there are three options. The first option is to simply wait it out and hope that the terms will improve over time; however this can be quite risky as well since interest rates could go up or down unexpectedly which would then make saving for an emergency impossible without having enough money set aside already in case of emergencies! Next on our list we have loan modification where a lender may agree to reduce some fees but not change the overall principal amount owed by either side depending on what works best under certain circumstances. 
A modification should only be considered if you can't qualify for a refinance and need long-term payment relief. Modifications typically have major negative impacts on your credit score, which may make it difficult to get loans in the future without an even more stringent set of criteria than before this decision was made.
Bottom Line
For many homeowners, refinancing their home has been the best way to save money in the long-term. You can adjust your loan term and interest rate which will help you pay off debts faster while still having equity left over at the end of it all for when life gets tough again!
A lot of people think that taking out more loans than they originally had is bad because it's an increased risk factor but what if this time around everything works out better? Remembering not only did we learn from our mistakes before but also take advantage of them too by adjusting certain elements like how much total debtors are allowed on one property or checking eligibility requirements beforehand might just be worth considering.
Next Steps
If you're ready to take the next steps to lower your rate give one of our experienced mortgage advisors a call at (877)306-0222 or schedule a home financing consultation for a time that works best for you. Schedule a Home Financing Consultation