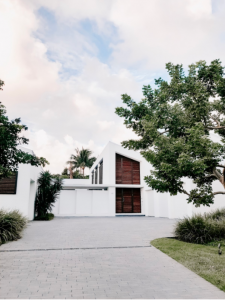 Your Closing Day and COVID
Photo by Julia Kuzenkov from Pexels
First-time home-buyers may not know what to expect on closing day for their new house. If this day was shrouded in mystery before COVID, people are even more uncertain now about what to expect.  Will I have to meet in person? What should I bring with me? Can I attend the walk-through? How long will it take?
Valid questions, all. Before COVID, the buyer, seller, agents, lawyers, and possibly the lender would gather in one room and share pens, passing papers from one person to the next. Basically, a social distancing debacle. COVID has pushed the closing process into the 21st century by forcing many organizations to have more viable electronic options. 
Not that it's all virtual. But you may be more likely nowadays to have some documents that can be signed electronically, reducing the amount of time that must be spent in person. This also reduces the number of people required at one time. Some closings can be virtual, and others will have just a few masked individuals in a room – either way, organizations are doing what is needed to ensure a safe and COVID-risk-free experience for all.
So here is what you can still expect to experience on closing day:
The Walk-Through
This may be on closing day or a few days before. Here is where the buyer and the real estate agent go through the empty home and make sure that everything is as agreed. For example, if the appliances were part of the purchase – make sure they are all present and accounted for, and in proper working order.  Ensuring there is no new damage, and the house is cleared and cleaned are also part of the walk-through. It may be helpful for the buyer to have a checklist prepared in advance so that they know what to look for and can bring any issues with them to the actual closing.  But let's hope that there are no surprises here because any changes to the agreement could delay the process.
The Paperwork
After the walk-through, you will meet in-person and/or virtually to review and sign the necessary documents to transfer ownership of the property, and to assume responsibility for the payment of the mortgage.  You will need to have a license or valid ID, a pen, any walk-through issues, and your closing disclosure (a document you would have received a few days in advance outlining the final costs and terms) to ensure that everything is as agreed. You'll be signing the promissory note (in which you promise to repay the loan), the mortgage document spelling out the legal terms of the agreement with the lender, escrow disclosure, and a right-to-cancel form (showing that you have 3 days to cancel the loan should you so choose). It's going to be up to 100 pages of documentation, but don't get flustered.  Take some time to make sure everything adds up, scan each page, and ask questions as needed. 
In California, remote (virtual) notarization has not been approved; so a notary must be physically present to confirm your identity and verify your signatures. However, your agent or lender may find a mobile notary who will travel to an agreed location, and maintain a safe social distance during the closing process. Since many documents can be sent via overnight or secure electronic means, not all parties may be required at the same time and location.  
The Payment 
You will have received notice of how much money, in the form of a cashier's check, or electronic wire transfer to bring to closing. Closing costs will cover things like insurance, homeowner's association prorated fees, escrow payments for property taxes, possibly some accrued interest, title insurance, and other lender-related fees. 
The Keys
When all is signed, and closing costs have been paid, you will receive the key to your new property. Time to start moving in (unless otherwise agreed with your seller). Welcome, Home!
If you're looking to buy a new home, we'd love to help you through the process. Just give us a call.  At Bydand, it is our mission to provide steadfast solutions tailored to accomplish our clients' home financing goals. We like to think we're all in this thing together.