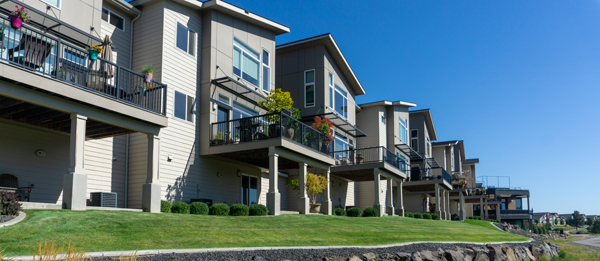 April Real Estate Roundup
Market Update: 
Sales of existing homes declined largely due to near-record low inventory in February, so the uptick in Housing Starts was certainly a welcome sign for future inventory potential. The Fed also took action at its March meeting to address soaring inflation.
Existing Home Sales Decline, Housing Starts Surge
After a substantial rise in January, sales of existing homes fell 7.2% in February, the National Association of REALTORS® (NAR) reported. Historically low inventory remains the key story, as there were only 870,000 homes for sale at the end of February, which is just above the record low of 860,000 at the end of January. This unsold inventory equates to a mere 1.7 months' supply of homes, whereas a 6 months' supply is considered a healthy housing market.
New Home Sales, which make up a smaller portion of the housing market, also fell 2% from January to February, per the Commerce Department.
However, hope may be on the horizon for low inventory woes. The Commerce Department reported that Housing Starts, which measure the beginning of construction on homes, rose 6.8% from January to February. This was a whopping 22.3% higher than in February of last year. Starts for single-family homes also rose 5.7% for the month and 13.7% annually.
Despite strong buyer demand, builder confidence fell for the fourth consecutive month in March due in large part to ongoing supply chain issues and rising costs. The National Association of Homebuilders (NAHB) Housing Market Index declined two points to 79. However, any reading over 50 on this index that ranges from 0 to 100 indicates more builders see conditions as good rather than poor.
Fed Addresses Rising Inflation
With consumer inflation, as measured by the Consumer Price Index, hitting 40-year highs in February, the Federal Reserve has been under pressure to address the soaring costs of goods. The Fed can help tame inflation by raising their benchmark Federal Funds Rate, which is the overnight borrowing rate for banks. This is because when rates rise, people and businesses tend to borrow less, which helps cool the demand for goods. And, over time, lower demand typically leads to lower prices.
The Fed responded by raising their benchmark Federal Funds Rate by 0.25% at their March meeting. It's important to note that while the Fed Funds Rate is not the same as mortgage rates, it can influence mortgage and other consumer rates.
In addition, inflation can also cause home loan rates to rise because it reduces the value of fixed investments. This includes a type of bond called Mortgage Backed Securities, and home loan rates are inversely tied to these bonds. Rising inflation can cause mortgage bonds to worsen, or move lower, and home loan rates can move higher when this happens, as we've seen this year.
Despite the recent uptick, the good news is that home loan rates remain attractive historically. If you're looking to purchase a home this year and want to review your financing options, reach out any time. I'm happy to help!
Success Scoop

Pointers for Perfecting Your Listing Photos
Taking picture-perfect listing photos will be a snap, thanks to these tips.
Stage each room to showcase its best features. Begin by cleaning and decluttering all surfaces and removing excess furniture that can make rooms appear crowded. Simple accessories like coffee table books, fresh flowers, decorative pillows or an elegant throw can make a home appear inviting without seeming overly staged. Also, consider adding touches that reflect the current season to help buyers envision how they can enjoy the home right away. For instance, turn on the fireplace during colder winter months or place a pitcher of lemonade on the deck during the summer.
Shoot each room from multiple spots so you'll have a variety of options to choose from. Take pictures at an angle instead of directly facing a wall to add depth to a space. Also, shooting from a corner or doorway can make rooms appear more spacious because it helps you fit more into your photo.
Good lighting is crucial to ensure the home doesn't appear dark or gloomy. Open blinds to add natural light but be sure not to shoot directly into bright windows to avoid glare. Take a variety of shots with lamps on and off so you can review which provides the best and warmest light. Also, if there are multiple lamps in a room, ensure they have the same type of lightbulbs, as varying light temperatures can create an unbalanced effect.
Your listing photos will make a great first impression with potential buyers thanks to these easy tips.
Source: Zillow
The REAL Deal

3 Thoughtful Closing Gift Ideas
These closing gift ideas are a great way to build rapport with your clients and grow your relationships for years to come.
Local experience gifts are especially thoughtful for clients who have recently moved to the area. Some ideas could include a membership to a local museum or a yearly parking pass to nearby parks, lakes or beaches so they can get out and explore their new neighborhood. Seasonal experiences such as tickets to state fairs or a summer concert series are additional options depending on your clients' interests and closing date.
Subscription gift boxes are a wonderful choice because your clients will receive monthly items they will love that will also remind them of you. Plus, with so many options to choose from for pets, kids, gourmet foods, teas, coffees, books and more, you're sure to find the perfect selection based on your clients' interests.
Gift cards to local businesses are always appreciated, especially when life is so hectic during a move. To personalize this type of gift, tie it to an interest your clients have mentioned and note this in a handwritten card for them. For example, if your clients are excited about gardening, a gift card to a local nursery will mean a great deal. Similarly, if your clients love getting brunch each weekend, they'll love a gift card to the neighborhood's top foodie spot.
Your clients will appreciate your thoughtfulness with these closing gift ideas.
Source: The Close