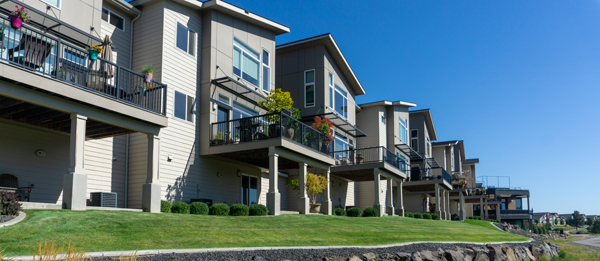 Market Update: 
Sales of existing homes declined largely due to near-record low inventory in February, so the uptick in Housing Starts was certainly a welcome sign for future inventory potential. The Fed also took action at its March meeting to address soaring inflation.
Existing Home Sales Decline, Housing Starts Surge
After a substantial rise in January, sales of existing homes fell 7.2% in February, the National Association of REALTORS® (NAR) reported. Historically low inventory remains the key story, as there were only 870,000 homes for sale at the end of February, which is just above the record low of 860,000 at the end of January. This unsold inventory equates to a mere 1.7 months' supply of homes, whereas a 6 months' supply is considered a healthy housing market.
New Home Sales, which make up a smaller portion of the housing market, also fell 2% from January to February, per the Commerce Department.
However, hope may be on the horizon for low inventory woes. The Commerce Department reported that Housing Starts, which measure the beginning of construction on homes, rose 6.8% from January to February. This was a whopping 22.3% higher than in February of last year. Starts for single-family homes also rose 5.7% for the month and 13.7% annually.
Despite strong buyer demand, builder confidence fell for the fourth consecutive month in March due in large part to ongoing supply chain issues and rising costs. The National Association of Homebuilders (NAHB) Housing Market Index declined two points to 79. However, any reading over 50 on this index that ranges from 0 to 100 indicates more builders see conditions as good rather than poor.
Fed Addresses Rising Inflation
With consumer inflation, as measured by the Consumer Price Index, hitting 40-year highs in February, the Federal Reserve has been under pressure to address the soaring costs of goods. The Fed can help tame inflation by raising their benchmark Federal Funds Rate, which is the overnight borrowing rate for banks. This is because when rates rise, people and businesses tend to borrow less, which helps cool the demand for goods. And, over time, lower demand typically leads to lower prices.
The Fed responded by raising their benchmark Federal Funds Rate by 0.25% at their March meeting. It's important to note that while the Fed Funds Rate is not the same as mortgage rates, it can influence mortgage and other consumer rates.
In addition, inflation can also cause home loan rates to rise because it reduces the value of fixed investments. This includes a type of bond called Mortgage Backed Securities, and home loan rates are inversely tied to these bonds. Rising inflation can cause mortgage bonds to worsen, or move lower, and home loan rates can move higher when this happens, as we've seen this year.
Despite the recent uptick, the good news is that home loan rates remain attractive historically. If you're looking to purchase a home this year and want to review your financing options, reach out any time. I'm happy to help!
Home Living                                                                                                           
 
4 Pointers to Freshen Your Patio for Spring
Breathe some fresh air into your patio this spring with these fun and easy decorating tips.
Flowers are the perfect way to add both color and a spring feeling to your outdoor space. Group together containers of various heights, which will create visual interest. If you have the space, adding containers throughout different areas of your patio will also increase the appeal.
Ambient lighting adds both a cozy and sophisticated touch. String lights, paper lanterns and battery-operated LED candles are great options to use. As an added bonus, lighting can extend the time you're able to stay outside in the evenings.
Pillows and throws are an easy way to create a cozy, comfortable vibe. Vibrant blues and greens are wonderful options for emphasizing the spring season. You can also add an outdoor rug to complement these accessories and make the space even more inviting. Stools or floor cushions can offer a nice and relaxed seating option for larger gatherings.
Outdoor curtains can provide important shade as the weather warms later this season. Plus, they're the perfect way to add some privacy to your patio without having to build a permanent structure. Bringing a Bluetooth speaker outside can also help create privacy while playing whatever music fits your mood.
These ideas can help you create a perfect space for relaxing outside with your friends and family this spring.
Source: HGTV
For the Season
Greek Salad
 
Greek salad! It's colorful, healthy, nutritious and the perfect way to celebrate the start of spring.
Yield: 6 Servings
Ingredients
1 hothouse cucumber

1 red bell pepper

1 yellow bell pepper

1 pint cherry or grape tomatoes

1/2 red onion

1/2 pound feta cheese

1/2 cup kalamata olives, pitted
For the vinaigrette
2 cloves garlic, minced

1 teaspoon dried oregano

1/2 teaspoon Dijon mustard

1/4 cup red wine vinegar

1 teaspoon Kosher salt

1/2 teaspoon freshly ground black pepper

1/2 cup olive oil
Prepare the vegetables by cutting the cucumber in half lengthwise, then cut into 1/4-inch slices. Chop both peppers into a medium dice. Halve the tomatoes and cut the onion into half-round slices. Place in a large bowl and set aside.
In a small bowl, whisk together garlic, oregano, mustard, red wine vinegar, salt and pepper. While still whisking, slowly add the olive oil to make an emulsion.
Pour the vinaigrette over the vegetables. Add the feta cheese and olives and toss to coat. Allow the salad to rest for 30 minutes, so flavors blend.
Serve at room temperature and enjoy on its own or with your favorite meat, poultry or fish and some olive bread for an added treat.
Source: Food Network