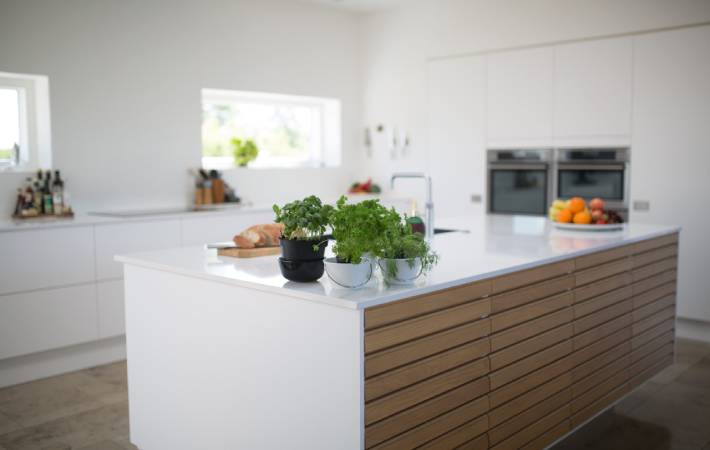 5 Ways to Update Your Kitchen
Photo by Rene Asmussen from Pexels
Need a few ideas on how you can update your kitchen? Here are a few things we recommend.
Update Your Kitchen with Wall Paint
Slapping a new paint color on the wall can go a long way to helping your kitchen. Sometimes this alone is enough to make you feel happier and cozier.
The main downside to paint is it is pretty meticulous. You need to be careful so you don't end up dripping or splashing paint everywhere. It may feel frustrating to move slow in certain spots or keep having to move the ladder. But in the end, you'll be glad you spent a few hours applying those coats of new paint. Your kitchen will feel like a brand new room.
Paint the Cabinets in Your Kitchen
Painting the walls is one thing – painting the cabinets is another. The downside to cabinets is there is a lot of preparation. To do it right you need to take the cabinet doors off. You may need to apply two coats, meaning the overall process is
Take doors off
Prep the doors
Apply the paint
Wait for it to dry
Paint again
Wait for the paint to dry
Re-attach doors
That's a lot of steps, so painting cabinets takes a lot of time. But it's amazing how just changing the cabinet colors will improve the look of the whole room. You can even change the knobs on the doors to complete the new look.
Change or Repair the Kitchen Floor
How is the floor in your most popular room in the house holding up? Is it in great shape, or has it seen better days? If your flooring doesn't look great, maybe it's time to either repair or replace it.
Unfortunately changing the floor isn't as exciting as some other kitchen projects. Other things like the cabinet or countertops are typically what come to mind with updating a kitchen, so the floor gets the backburner.
But your floor is important. If your floor is damaged and uncomfortable to walk on, you won't exactly enjoy being in the kitchen. Likewise, if you just think it's ugly or outdated, you probably should go ahead and put in something new.
Update Your Appliances
"They don't make 'em like they used to" isn't just something your grandparents like to say. It's true – appliances these days just don't seem to last as long as older ones. It's common to find some things like microwaves or dishwashers that look terrible but still work perfectly fine.
The thing is, there's more to a kitchen than just functionality. If you're tired of seeing or using that old appliance, think about updating it. The main ones that come to mind are
Refrigerator
Oven/Stove
Microwave
Dishwasher
Of course, you probably have others, but these are a good place to start.
Update the Kitchen Faucet and/or Sink
When was the last time the kitchen faucet or sink got updated? If you don't remember, maybe this is a good place to start. Faucets get dirty over time, plus they go out of style. What was popular 10 years ago just doesn't translate to what's popular today.
Are you surprised we didn't say you should update your kitchen counters? That's because the countertops are essentially a given. Most people know and think about that already. We wanted to be a little different to use this article to highlight other things you may want to change about your kitchen. We pride ourselves on being different from other lenders. Give us a call at (877) 306-0222 and we'll prove it.