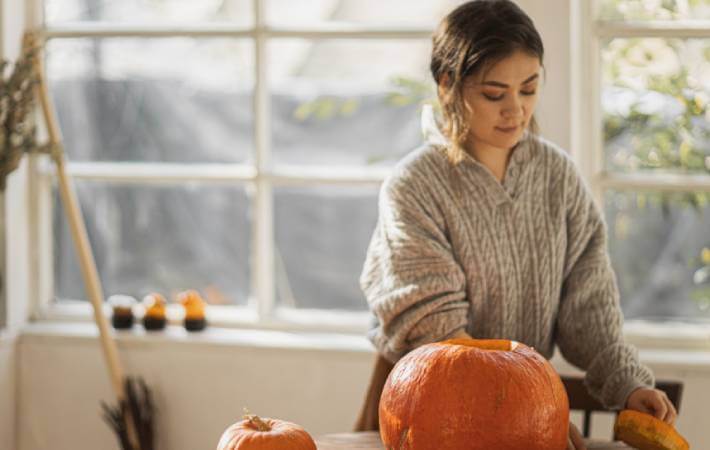 3 Renovation Ideas for the Fall
Since the next few months are a great time for home projects, we've put together a short list of fall renovation ideas. These are great ways to prepare your home for hosting the holidays which will be here before we know it!
Fall Renovation Ideas: Remodeling the Kitchen
The kitchen is "the new living room." It's common for people to spend a lot of time together there – even if they aren't preparing meals. It tends to offer a nice place for people to stand around snacking or sipping on their favorite beverage and hanging out.
The kitchen is important, which is why this report from Zillow showed 58% of home buyers see getting their preferred kitchen as an important factor in buying a house.
Here are some kitchen remodeling ideas to spruce up your kitchen without having to take out a second mortgage just to afford it.
Add a backsplash
These are easy to apply but make a huge difference in a kitchen. There are several different types, but there are a lot of designs that are basically just stickers you put on the wall!
Paint the cabinets
This can be time consuming, but the good news is it's relatively inexpensive. This is especially great for dark kitchens that you want to brighten up.
Convert cabinets into shelves
Maybe you want a more modern look and are tired of cabinets. Since cabinets are essentially just shelves with walls, why not consider converting your upper cabinets into shelves? You still have a space to store stuff, but now the kitchen will feel more open.
All set? Great – let's move onto our next one.
Fall Renovation Ideas: Bathroom Remodeling
As this article on HomeDepot.com mentions, buyers want good bathrooms. Besides the kitchen, it's the main type of room that helps sell a home.
That's why you can't go wrong with putting some sweat equity here. Here are some of the best bathroom remodeling ideas to consider.
Change out the tile
This is one of the more time-intensive fall renovation ideas in this list, but it's also one that will have a huge impact. You can go a lot of different routes here such as laminate or vinyl flooring that looks like hardwood, or you can get another type of tile.
Change out the vanity
There are a ton of types of vanities out there. Some are huge, with a full cabinet underneath for storage. Others are extremely minimalistic, attaching to the wall and not having any support underneath. Then of course you have everything in between, such as pedestal sinks. You'll be amazed how much of a difference a new vanity can make.
Add some greenery
The easiest thing on this list, adding a plant to your bathroom will give it new color. It can be either a fake plant or real, whatever you prefer.
Last but not least, let's talk about our last section.
Fall Renovation Ideas: Finish the Basement
Not everyone has a basement, so this may not apply. But if you do, you know how great a finished basement can be.
Here are a few finished basement ideas to level up the home.
Put in a wine rack – the great thing about wine is it improves over time. You don't have to worry about it getting old. Build a nice wine rack and fill it up over time for a nice decoration, conversation piece and always-ready wine collection.
Make a workout room
The basement is a great place for working out since you don't have to worry about waking up the rest of the family.
Add a kitchenette
Having a small kitchen in the basement (including a fridge) is terrific. It gives you another place to both store and prepare food.
Enjoy Your Fall!
We hoped these fall renovation ideas help get the gears turning for how to upgrade your house this fall. And when you're ready to buy your next dream home, just apply on our website and we'll do everything we can to get you a great offer.