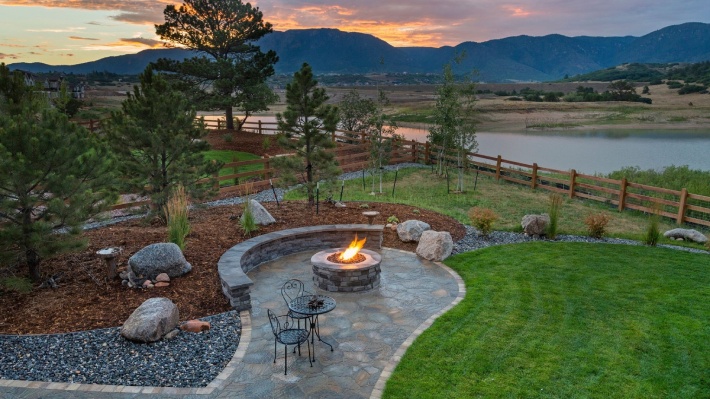 Are you feeling inspired to do some outdoor renovations, but don't know where to start? Or maybe you've started, but hit a wall and don't know how to proceed. This blog post is for you! We'll provide some tips and ideas to get your creative juices flowing. So what are you waiting for? Get started today!
Yard Renovations: 
Before embarking on any outdoor renovations project, it is important to consider how the finished space will be used. If you are planning to sell your home, it is wise to choose outdoor renovations that will appeal to potential buyers. If you are not planning to sell, it is still important to make sure that your yard will be functional for your family's needs. The most effective outdoor spaces are those that feel like a natural extension of the indoor living area. This can be achieved by adding features such as a patio or deck, which create a seamless transition between the indoors and outdoors. Landscaping is also important in creating a cohesive outdoor living space. A well-designed landscape can provide privacy and shade. 
Small and Affordable Outdoor Renovations: 
One of the most important things to remember when trying to improve your home's value is that first impressions matter. If potential buyers drive by and see an unkempt yard or peeling paint, they're not going to be eager to see what's inside. Even small projects like power washing your siding or trimming your hedges can make a big difference. If you have a little more time and money to invest, you might want to consider painting your front door. These are all relatively inexpensive projects that can really improve the look of your home. Below are three outdoor renovation tips to help add value to your home without breaking the bank! 
Invest in trees: Trees are a wise investment for any homeowner. Not only do they provide shade and beauty, but they can also increase the value of your home. The U.S. Forest Service estimates that trees add a 3-7 percent increase in value to a home. Eighty-four percent of real estate agents agreed, noting homes with trees are as much as 20 percent more salable. If you're looking to add trees to your property, be sure to choose the right species for your climate and soil type. Once you've planted your trees, be sure to water them regularly and provide proper care. With a little TLC, your trees will be an asset to your home for years to come. 
Use small plants to fill in space: If you're looking to add some greenery to your home but don't want to break the bank, then small foliage may be the way to go. Not only do small plants cost less than their larger counterparts, but they also establish more effectively. In a study conducted by Virginia Tech, it was found that properties with small foliage saw a 36 percent increase in perceived home value compared to those with established, variable foliage. So if you're looking to add some curb appeal to your home, small foliage is a great option. Not only will it save you money in the short-term, but it will also appreciate in value over time.
Invest in native plants: One of the best ways to create a low-maintenance garden is to choose native plants. These plants are adapted to thrive in a particular location, and they usually don't require any special care or chemical intervention. In fact, native plants are often more resistant to pests and diseases, and they tend to be more drought-tolerant than non-native species. As a result, they'll often need less water and fertilizer, and they'll typically require less pruning and deadheading. So if you're looking for a hassle-free garden, choosing natives is always a good idea.
Make Your Outdoor Living Space Fun 
There are many different ways to increase the value of your home, but making improvements to the exterior is often one of the most effective. Whether you want to add a deck or patio for entertaining, install new windows for energy efficiency, or simply give your home a new coat of paint, there are plenty of options to choose from. And best of all, many of these projects can be completed relatively easily and inexpensively. So if you're looking for a way to add value to your home, start with the outside. With a little effort, you can make changes that will improve both the appearance and the functionality of your home, and that will provide lasting enjoyment for you and your family.
A well-maintained yard can be the key to a successful sale, but even if you're not planning on putting your house on the market anytime soon, there are plenty of reasons to invest in some outdoor improvements. Not only can they make your home more enjoyable to live in, but they can also add value should you ever decide to sell. One of the most effective ways to add curb appeal is to spruce up your landscaping. Planting some colorful flowers and trimmed shrubs can make a big difference. And it's a relatively inexpensive way to give your home an instant facelift. If you're looking for a more substantial project, consider adding a deck or patio. These features provide valuable extra living space and can be used
Bottom Line
No matter what your plans are for your outdoor space, having the right amount of funding is essential to bringing your vision to life. If you're looking for a way to finance your project, a cash-out refinance may be an option worth considering. With a cash-out refinance, you can use the equity you've built up in your home to obtain the funds you need for your project. And at Bydand, our mortgage advisors are ready to help you explore all of your financing options. Contact us today to learn more about how we can help you make your outdoor dreams a reality or click the button below to apply now!